a.bout sinusoidal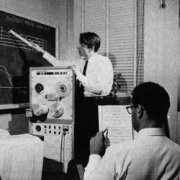 sinusoidal staff at work in the lab
Sinusoidal Records is an independent label located in the Vancouver area of British Columbia, Canada. Sinusoidal serves as a platform for its members and artists to release and distribute their recordings, and also enables everyone to get cheaper coffee via their wholesaler.
In many ways Sinusoidal grew up around late-night radio explorations. All of our members have in some way been involved, or are still involved, with the Vancouver college radio station CiTR, which broadcasts to Vancouver and beyond at 101.9FM. Haitchc still hosts
Plutonian Nights
every other Tuesday night at 10pm, and this show is also available worldwide via Shoutcast.
On the site you'll find some info about current Sinusoidal artists, discography's, and some of their work in either
mp3
or
realaudio
format which is available for free download.
Also check out the Sinusoidal
news
page for info on new releases, events, and updates.